SatFish maps show you where to find ideal conditions for dolphin:
Sea Surface Temperature: 65-85F / 18-29C (70-78F / 21-26C is ideal)
Water Color / Chlorophyll: Clean purple-blue to off-blue, occasionally into slightly greener water if that's where the food is. 0.01-5.0 mg/m3 (near color changes is ideal)
Current: Breaks, eddies, and convergence zones where water flow changes abruptly and gathers flotsam
Bathymetry: Typically less important than finding current breaks and flotsam like weed lines or kelp paddies
How to find and catch dolphin
Dolphin (a.k.a. dorado or mahi-mahi) are primarily an offshore species that associate with floating structure such as Sargassum weed lines, logs, kelp paddies, and fish aggregation devices (FADs). They've even been known to hang out around floating objects as small as a palm frond, buoy, or lost cooler!
Use SatFish high-def SST and Chlorophyll maps to look for temperature and color breaks. These breaks are often good indicators of current breaks and slicks, which accumulate flotsam and the bait that hides in it. That's where you'll find dolphin.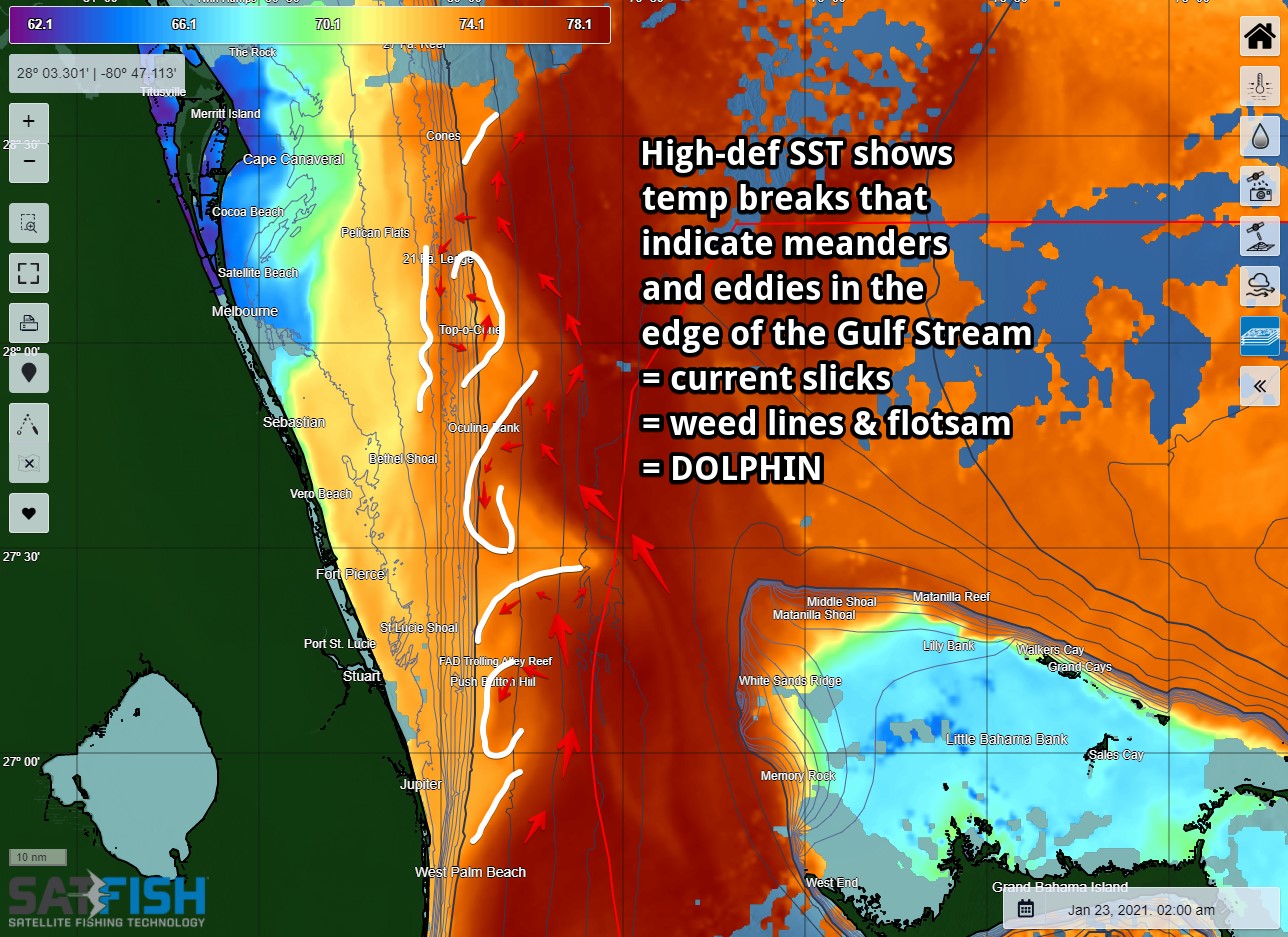 The SatFish currents map can also help provide a big-picture view of large areas where you're more likely to find Sargassum and other floating debris – and therefore dolphin and other gamefish. The flotsam will tend to gather where the current slows down and/or changes direction abruptly, as well as in "convergence zones" where two currents run into each other head-on.
Since the currents map is best viewed zoomed out over much larger areas, though, it's still a good idea to fine-tune your game plan with the high-def SST and Chlorophyll images to find the sharper edges and breaks in the current.
Dolphin can be found in a fairly wide range of water temperatures. You'll sometimes find them in water as cold as 65-66F but they are more commonly found in warmer water. They typically bite best once temps get up into the 70-78F range to get their metabolism kicked into high gear. They also tend to stick to cleaner blue offshore water but will occasionally cross over to the green side of color breaks if that's where the baitfish are hiding out.
Since dolphin are mainly found offshore and near the surface, bottom depth and structure aren't quite as important for them. They will sometimes venture inshore as shallow as 10-30 fathoms when offshore currents push in toward the coast. This is especially true where the Gulf Stream runs near the coast and coastal shelf in Florida and the edges of the warm water butt up against cooler inshore water to form current slicks and weed lines in shallow water. In these shallower areas they also sometimes hang around reef and ledge structures unless they've chased baitfish out into the open.
Temp breaks within 69-78F range: Good
Color breaks within 0.01-5 mg/m3 Chl: Good
Current breaks, eddies, and slicks: Very good
Flotsam such as weed lines, kelp paddies, and logs: BEST
Trolling along weed lines and around kelp paddies, logs, etc. is productive for specifically targeting dolphin. They'll gobble up trolling feathers and can get really aggressive with oversized marlin lures. Black/purple, pink/white, baitfish patterns, and other bright colors are good choices. They're also readily caught on live bait and casting surface jigs; this is most productive when you find a school associated with a small piece of floating structure like a kelp paddy or log. Chunking mackerel or sardines/menhaden can be effective when they are picky and/or in colder water.
Ready to catch more dolphin?
Sign up now for all the latest high-def SSTs, Chlorophyll maps, and more
Limited time offer:
Start with a 30-day free trial!