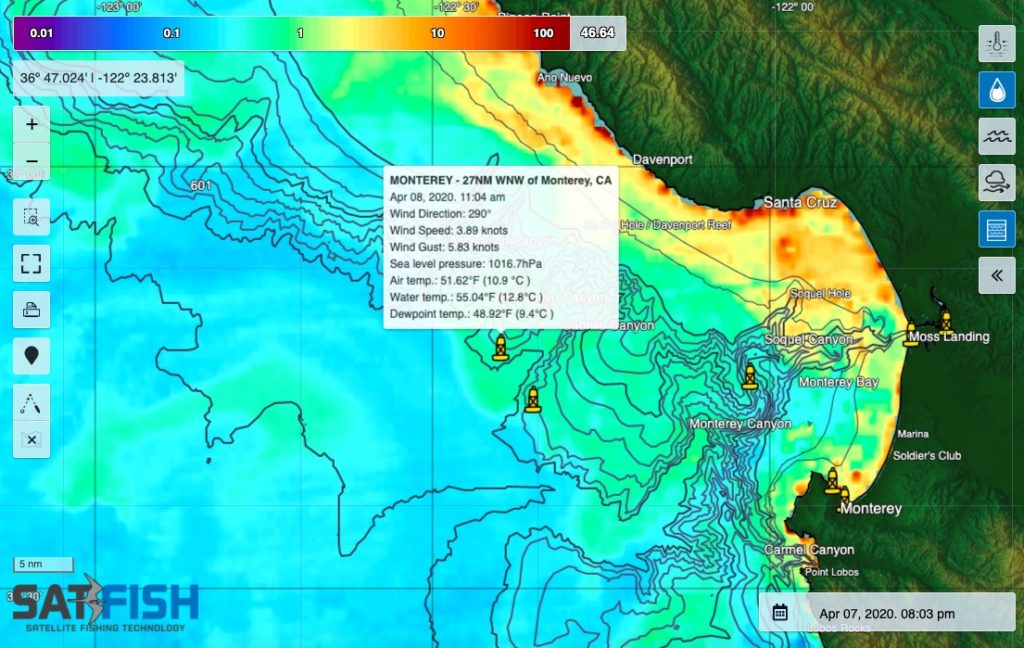 SatFish's Central California offshore fishing map helps central coast anglers find the offshore sea surface temperature (SST) and water color (chlorophyll) breaks that hold albacore during summer and fall. These same breaks also point the way to bluefin tuna as they work north from SoCal through the Avila and Morro Bay offshore grounds up to Monterey Bay and Davenport. Even when it's cloudy, our cloud-free SST and 1- and 3-day composites will still point you to the right general area to look for life and gamefish. Plus, our 5-day wind forecast helps you pick out the right window to make your run offshore.
Our detailed bathymetry maps also give you a great layout of the bottom structure so you can find new grounds for rockfish and lingcod. They also show Monterey Canyon in high-def detail so you can work right along the canyon edges that hold bait and salmon in the spring and early summer.
Our Central California fishing chart covers the entire California central coast from the Bay Area down to Point Conception, providing full coverage of the inshore and offshore fishing grounds accessible from Half Moon Bay, Santa Cruz, Monterey, Morro Bay, and Port San Luis / Avila Beach.